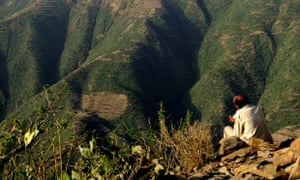 In the spring of 1976, two young Eritrean men walked into the glass-fronted United Nations building in downtown Geneva to make a desperate plea.
When the two men persisted, officials eventually agreed to help set up a school in neighbouring Sudan, where thousands of refugees were camped at the time.
Their efforts encapsulate the fierce self-reliance – and sense of betrayal toward the international community – that held Eritrea together during its 30-year struggle for independence, and is arguably still strongly present today.
Around 6,000 students passed through the school they helped set up in Kassala, in eastern Sudan, many of whom went on to study abroad. "After the liberation of Eritrea, I was expecting them to return back and develop the country," said Tesfamariam.
Instead, independence triggered a slow bleeding of the population. For a generation of opposition activists like Tesfamariam, who turned 70 this year, it marked the beginning of a period of exile from which few have returned.
The pressure of three decades of war prompted the ELF to splinter and from it emerged the Eritrean People's Liberation Front, whose tanks finally rolled to victory in the capital, Asmara, in 1991, after three decades of conflict. At their head was Isaias Afwerki, a charismatic, sandal-wearing soldier who idolised Marx, and who quickly turned on the other organisations that had fought for independence alongside him.
"We were demonstrating, having strikes, everything we could do in the face of a very punishing Ethiopian response. We thought that after independence there would be real democracy, but today it is absolutely impossible to return to Eritrea as an opposition member. If you do, they will pick you up upon arrival and you will disappear," said Tesfamariam.
"It is the worst kind of dictatorship – it's run as if it's bandit country."
For almost a quarter of a century, Eritrea has remained under the iron grip of Afwerki, its population of 6 million getting by with no constitution, no independent judiciary or media, and no opposition parties. Isolated and paranoid, Afwerki has declared the population is "not ready" for multi-party democracy.
Charm offensive
There's a grim running joke among exiled politicians that Afwerki controls both the government and opposition, as both sides are forced to dance to his tune, prompting the nickname "Africa's North Korea".
Underground movement
Tesfamariam, whose decades-long career as an independence fighter began with him delivering secret mail between members, said momentum was slowly growing inside Asmara, despite the risks.
A generational rupture means many still view Afwerki as a national hero, even if they hoped for more prosperity by now. Solomon Abraha, a 70-year-old birdwatcher who runs tourism trips into the country, often joins veterans to sip coffee in the city squares and is dismissive of international pressure helping after so many decades. "It's a free country – I can come and go as I please. Eritrean eyes see the situation most clearly.
"Even if there are some things that need to change, it has to be done the Eritrean way."
Although a strong sense of nationalism means Eritrea is unlikely to witness the implosions of regional neighbours like Somalia and Libya, the path ahead is likely to be rocky.
"If we're talking about a western approach to democracy, it's going to be very difficult to reach that stage because these are organisations that have been continuously under armed struggle. The [institutional] capacity is very weak, but there is no other way but forward," Tesfamariam said.